Airsoft GB, Essex, UK
Airsoft GB offer fast paced Airsoft tactical team play across two varied sites in Essex. Enjoy a day using full replica guns firing 6mm plastic ball bearings. Airsoft is one of the fastest growing sports in the UK and offers an experience unlike any other. Exhilaration combined with tactical gameplay will get your blood pumping and make for a truly unforgettable day.
Fast paced, furious Airsoft fun!
At Airsoft GB we welcome Airsoft players of all experience levels. So if you are new to Airsoft and looking for a safe place to start a wonderful hobby, or an experienced player looking for new challenges, then we have an Airsoft event that will be right for you.
Please explore our site and if you still have questions then feel free to email or call us!
We have a real passion for Airsoft and giving players at our Airsoft Essex sites an excellent, fun and fast paced day, which is excellent value for money. At the moment we host Airsoft games approximately once a month. We offer black Airsoft guns for hire, please see our Airsoft gun page for more details.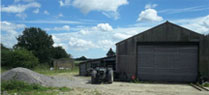 We have 2 Airsoft sites on offer at our base in Great Bromley, Essex. The Ex-RAF site offers a historical setting with a range of urban shelter on different levels, whilst the CQB site is surrounded by lowland trees on 2 sides with a range of huts and bunkers for closer combat.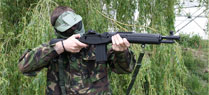 From AEGs, Sniper Rifles, Heavy Support Guns, Pistols and Single Shot Springers we are sure to have an Airsoft gun to suit your style of play. All of our guns are available for rental at Airsoft GB game days. Take a look at the stats & pick your weapon of choice.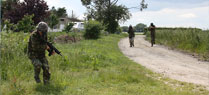 We always welcome new players of any skill level at our monthly Airsoft events. If you've never played before, or are perhaps a seasoned pro we would love to have you along for a day of fast paced tactical team play. Book your place, take a look at our price list or see our up and coming events.